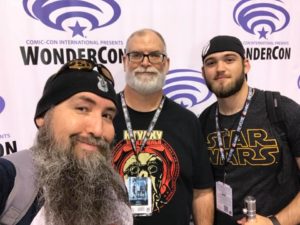 Per the usual, myself, Charles and Matt attended WonderCon this year. This was probably the only year where I actually didn't get a lot of photos. There were some things I had hoped to check (see if Marc Silvestri of Top Cow – known for his work on Uncanny X-Men as well as his own book, Cyberforce, which I've gotten all autographed in the previous years), and to see where Kevin Grevioux was (because I had all the New Warriors issues he had done, ready to be signed) – but if there was one complaint I have about WonderCon (or any Con, really) – they don't list where the majority of these people can be found – there's no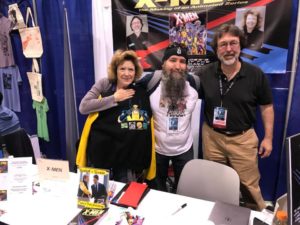 Appendix of any kind in their con-books that's even remotely useful. So I wasn't able to find out if Marc was there at all, or where Kevin (who was there) was sitting. I did get to meet up with Eric & Julia again – whom I had interviewed in person before (along with Maico, my co-host) in the podcast I do – Comic Relief Podcast. It was very easy to find them because they took up my suggestion of altering the "display name" of their Twitter account to also mention their location at the Convention (why every professional doesn't do this, to make it easier to find
them is way beyond me). Knowing I was going to meet them, I brought all five seasons of X-Men: The Animated Series, which they were kind enough to autograph – and I also picked up their book Previously On X-Men which they also autographed. I am definitely wanting them to come back on the Comic Relief Podcast to go over more about their cartoons, the success of their book, some of the things they cover in the book, and the whirlwind that's been their life for the last few years! You can order the book – and if you were a fan of the animated series – I strongly recommend ordering it –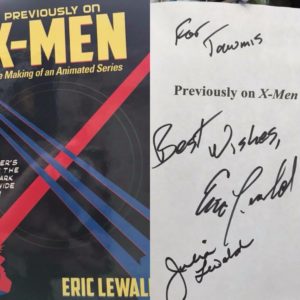 either on this site – http://www.jacobsbrownmediagroup.com/previously-on-x-men.html or even over on Amazon. It's definitely worth the trivial price, for all the cool insight and notes about the series – things like how "Mutant 1, 2, 3, and 4" were "slipped" by the become actual mutants from the Marvel Universe (like Blob, Feral, and Northstar)!
Now I did say at the beginning of this that I didn't take a lot of pictures this year at WonderCon… that's both true and lie. I ended up taking a lot of pictures of Matt and I with our new toys – two new Lightsabers – from the folks at Ultrasabers. They were doing a $75 grab bag – where you don't know what you're getting (in terms of hilt, color, sound – if any sound at all) – and I lucked out and got one that had Obsidian Sound and was orange (I was hoping for either orange or yellow)! Matt got no sound on his, but is one heck of a bright blue. The colors in these photos look off (mine ranged from looking red to looking yellow, while Matt's frequently looked purple).
All in all it was a really fun time! Especially the 2 hours resting in the hotel Jacuzzi after all the walking around!